---
ABOUT Voting By Mail in NY
---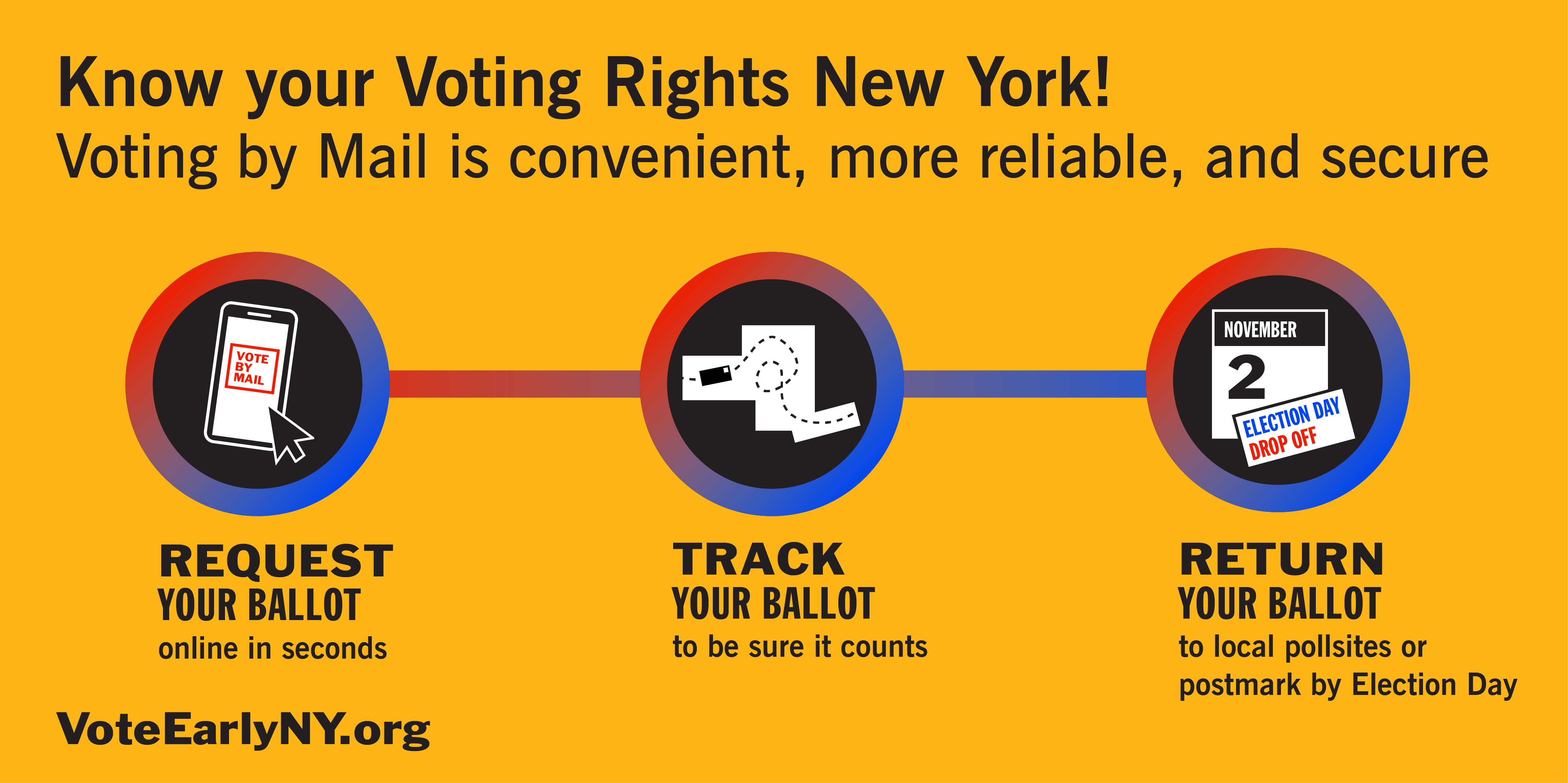 To Vote by Mail in August 2022 Primaries:

By August 8th, 2022 you must request a ballot online, or request one by mail or fax.

DEADLINE ALERT: Your Local Board of Elections must RECEIVE your ballot request by this date.
After this deadline voters may request a ballot in-person at their Local Board of Elections (or give a person they trust written permission to do so on their behalf in Section 6 of this printable ballot request form (eng, esp), through close of business on the day prior to Election Day, Monday, August 22nd

.

When applying due to COVID

, select "Temporary illness or physical disability" as the reason. This includes the potential for spreading or contracting any illness.

On the go? Traveling?

When requesting a ballot, voters can have it mailed to an alternative (mailing) address.

Voters with disabilities

may apply for an accessible electronic ballot Click Here (can be used with a screen reader). Learn more Click Here.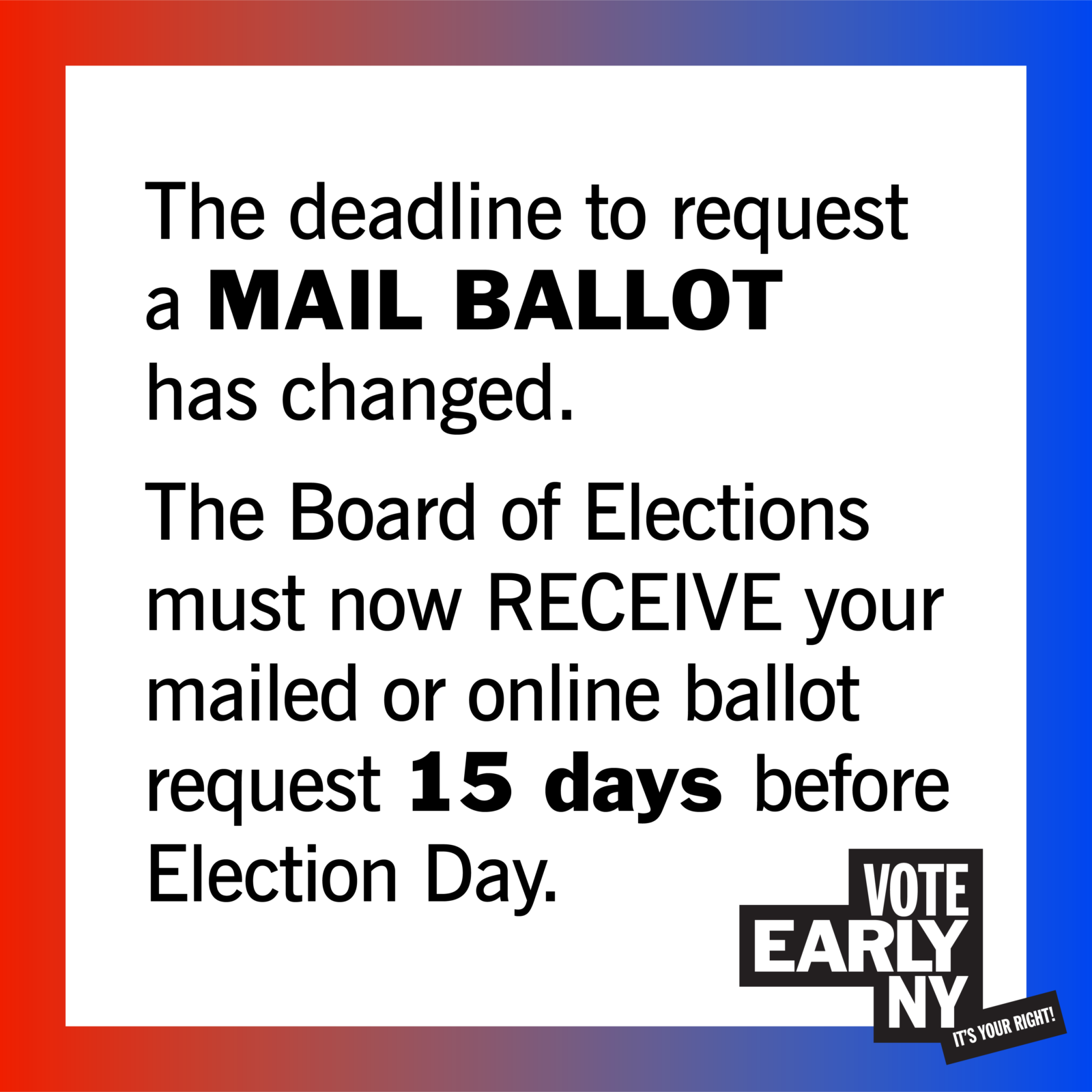 After requesting a ballot, a voter will receive:

Absentee/Military Ballot: follow the instructions and mark your votes for each contest with a blue or black pen. Fill in the oval completely. Avoid making stray marks on the ballot.
Inner Ballot (oath) Envelope: Must be sealed (do not use tape or glue), signed, and dated accurately.
Outer Return Envelope: Beginning in August 2022, postage IS prepaid (no stamp required). See below for "drop off" alternatives to mailing.

Voters with disabilities may:

Sign the Ballot (oath) Envelope themselves, or may make a mark and have that mark witnessed in the space provided on the oath Envelope for name and address of a witness.

A power of attorney or name stamp is not allowed.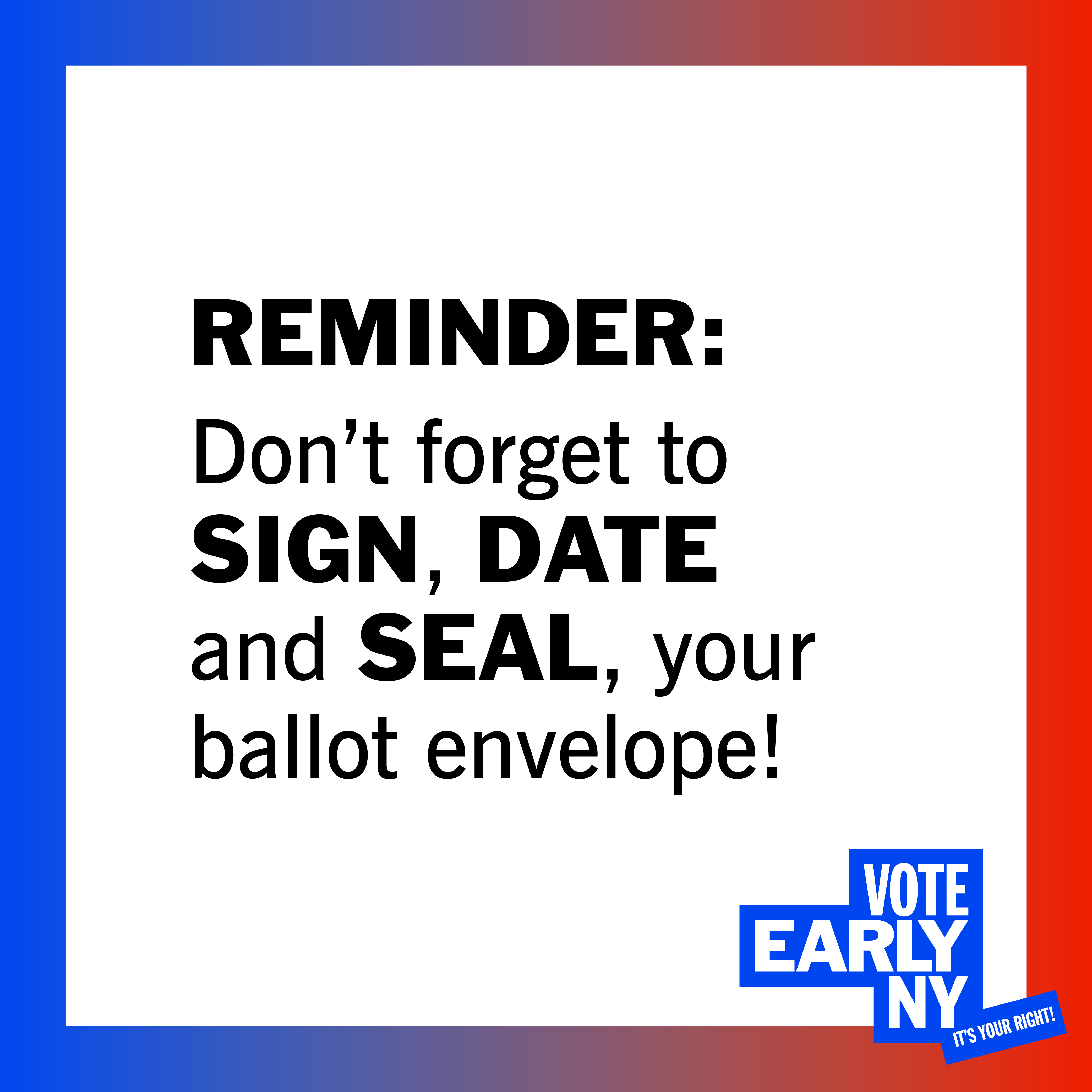 Voters must return ballots prior to 9 PM on Election Day using ANY of these methods:
By Mail:

Ballots must be postmarked by Election Day. No postage stamp required.

Return postage is prepaid, effective July 2022 (NYS Election Law § 8-406(2))
The USPS is required by law to properly deliver election mail, regardless of postage. If a mailed ballot is returned undelivered, please file a report with the NYS Attorney General's Office and drop off your ballot using the options below if there is still time.

By drop off at your Local Board of Elections Office

during operating hours. Locate your Local Board of Elections. NYC voters may return ballots to any NYC Board of Elections office

.

By drop off at ANY Early Voting Site

in your county during Early Voting operating hours (Find Local Early Voting Locations and Hours). NYC voters may drop it off at ANY Early Voting site in the Five Boroughs.

By Drop off at ANY Election Day Poll Site

in your county during Election Day operating hours (6 AM - 9 PM). NYC voters may drop off ballots at ANY Election Day poll site in the Five Boroughs.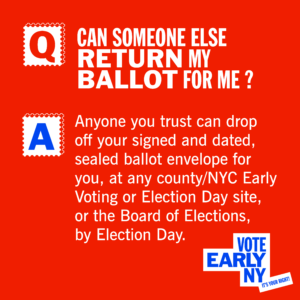 Know your Absentee Voting RIGHTS!
If you have requested but not received an absentee ballot (or if it is damaged / lost / destroyed),

you can still vote in person during Early Voting or on Election Day. However, beginning in 2022, these voters may only cast an Affidavit Ballot and should carefully read, complete and sign the affidavit. New York Election Law ensures only one ballot from each voter will be counted.

To see all voting options for your county or borough Click Here.

Opportunity to Cure Technical Errors.

Due process safeguards require local boards of elections to notify and allow voters to correct several technical defects on their absentee ballot envelope. Many are curable by filing a cure statement but voter must do so within 7 days of notification.

Impacted voters will receive a notice by email, phone, or snail mail from their local board of elections and will have a time-limited opportunity to cure the defect. The "Cure Process" is

Described Here.